News
News
We offer
the skill-building program
"Become a Certified Team Stream Practitioner!"
for managers, project managers, external and internal consultants, trainers and coaches!
In a 12-hour program learn skills to moderate  team meetings, workshops and discussions using the Team Stream methodology.
Get: practical knowledge and skills, Team Stream Certificate on completion of the program. In addition, you can buy a Team Stream set and Time for Team Stream with a 10% discount.
Find out what former participants have said about the program
Call or email us to find out the nearest dates of the program
Training fee: 270 EUR + VAT    
Get acquainted with more detailed content of the program here: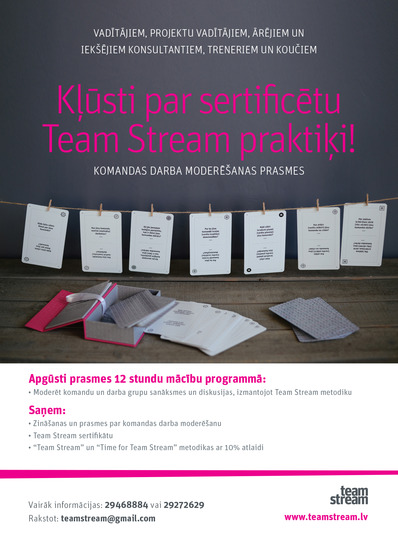 Are you interested?
Contact us!